Thomas Adams (1818-1905) - Founder of the chewing gum industry, later teamed up with William Wrigley Jr. Adams got the idea while working as secretary to the ex-dictator of Mexico, Antonio Lopez de Santa Anna. Santa Ana chewed a Mexican plant called chicle, which Adams first tried to make into rubber, but when that failed he added sugar to the chicle making the gum that would become known as Chiclets. Adams lived in West New Brighton in the 1860s and 1870s.
Christina Aguilera (1980-) Chart-topping pop singer was born on Staten Island. Her "big break" came when she sang Reflections in the Disney film Mulan. She won a Grammy Award for best new artist of the year 1999. Her albums include Christina Aguilera (1999), Christmas Song (1999) and Mi Reflejo (2000).
Gerald Arpino (1925-) Dancer, choreographer, ballet director, and native Staten Islander. In 1956 he co-founded the Joffrey Ballet with Robert Joffrey and has remained with the company producing over 44 ballets for them. He became principal director and choreographer after Joffrey's death in 1988.
Oscar Auerbach (1905-1997) Pathologist who discovered the link between smoking and lung cancer. His research is the basis for the U.S. Surgeon General's warning which appears on all cigarette packs. He worked at Sea View Hospital from 1932-1937 and St. Vincent's Medical Center 1965-1978.
Alice Austen (1866-1952) Pioneering female photographer documented turn of the century life on Staten Island and around New York City. She lived in a Rosebank house called Clear Comfort overlooking the Narrows. It is now a museum dedicated to her photographs. A ferryboat and PS 60 are named for her.
Albert V. Baez (1912-) Physicist and inventor (with Paul Kirkpatrick) of the X-ray microscope in 1950. The X-ray microscope is especially useful for studying DNA and the AIDS virus. He was also a pioneer in the development of the X-ray telescope. The X-ray telescope allows astronomers to detect black holes where no light can escape but energy is emitted from the edges. Born in Puebla, Mexico, he taught math at Wagner College and lived in Westerleigh in the early 1940s. Also known as the father of the folksingers Joan Baez and Mimi (Baez) Farina. He writes about the development of the X-Ray microscope in his article "Andecdotes about the early days of X-Ray Optics" in the Journal of X-Ray Science and Technology, Vol. 8, No. 2, 1998
Joan Baez (1941-) Folk singer born on Staten Island. She lived on Maine Avenue in Westerleigh until she was two years old. She was a leader in the folk music revival of the 1960s. Noted for both her social activism and rich soprano voice her recording and touring career has spanned over forty years. Her autobiography is called And A Voice to Sing With (1987).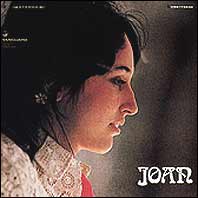 Richard Bayley (1745-1801) Physician. His treatment for Diptheria cut his patients' mortality rate in half. In 1788 a mob attacked his laboratory during the "Doctors Riots", protesting his use of human cadavers in medical demonstrations. Around 1796 he was appointed head of the Quarantine Station for the port of New York at Tompkinsville (now St. George) where he later contracted Yellow Fever and died. He influenced the treatment of Yellow Fever and the formation of federal and New York State quarantine laws. Bayley Seton Hospital is named for both Richard Bayley and his daughter, the first American-born Roman Catholic Saint, Elizabeth Ann (Bayley) Seton.
Ella Reeve Bloor (1862-1951) Feminist, labor agitator, journalist and "the foremost American woman Communist", "Mother Bloor" organized women's suffrage and labor protests throughout the United States. She was born on Staten Island. Her autobiography is called We Are Many (1940).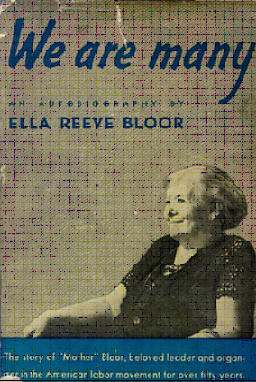 Polly Bodine (1810?-1892) She was accused of the murder of her sister-in-law, Emeline Houseman, and Emeline's infant daughter, Ann Eliza, at their Staten Island home on Christmas night, 1843 (near Forest Avenue and US 440, if it stood today). Their bodies were found brutally beaten and their house set afire to cover up the crime. The case attracted massive media attention. Edgar Allen Poe wrote about it. P.T. Barnum displayed a wax tableau of the crime in his museum, proclaiming Bodine "the witch of Staten Island". She was acquitted after three trials.
Jane Auer Bowles (1917-1973) Author of Two Serious Ladies (1943) based upon the time she and her husband Paul lived on Staten Island and in Central America. Although not widely read, the novel has been called "a landmark of twentieth century American literature".
Paul Bowles (1910-1999) Novelist, poet, and musical composer, he is best known for his novel The Sheltering Sky (1949) released as a feature film in 1990 starring John Malkovich and Debra Winger (Bowles narrates the film.) A great influence for The Sheltering Sky came from his wife's novel Two Serious Ladies.
Alfred Thompson Bricher (1837-1908) One of the last painters of the Hudson River School. By the end of his life, his style of painting had been eclipsed by the Modern art movement and his works virtually forgotten. Gradually his paintings attracted more admirers and by the 1980s he was recognized as one of the best American maritime painters of the nineteenth century. A self taught luminist , he explored the effects of light on land and seascapes, especially the translucent effects it creates on water. Because of his passion for the sea he bought a home in New Dorp in the early 1890s and painted there until his death.
Nathaniel Britton (1859-1934) Botanist who classified different varieties of plants, a founder and first director of the New York Botanical Garden, was born in New Dorp. His book An Illustrated Flora of the Northern United States, Canada and the British Possessions (1896-98) was the first to illustrate every species of plant in the region and revived public interest in native American plants. Mount Britton in Puerto Rico is named in honor of his services to Puerto Rican botanical science.
Aaron Burr (1756-1836) Third Vice President of the United States under Thomas Jefferson from 1801-1805. In 1804 he killed his long time rival Alexander Hamilton in a duel after Hamilton had publicly accused him of being "dangerous". He lived his later years and died in Port Richmond.
Tony Canzoneri (1908-1959) Island boxer fought professionally from 1925 to 1939. He had 178 fights, winning 140 (44 by knockout). He was a world champion featherweight (1927), junior welterweight (1930) and junior lightweight (1930) making him boxing's third three-division champion. He scored the fourth fastest knockout in history, 1 minute 6 seconds in 1930. He was inducted into the International Boxing Hall of Fame in 1990.
---
Vincent Capodanno (1929-1967) A Maryknoll Priest with the rank of Lieutenant in the U.S. Navy Chaplain Corps. Lost his life providing comfort and assistance to Marines fighting in the Quang Tin Province of Vietnam on September 4, 1967. Posthumously awarded the Medal of Honor. A native Staten Islander, Father Capodanno Boulevard is named for him. His life story is told in The Grunt Padre: Father Vincent Robert Capodanno: Vietnam, 1966-1967 (2000) by Daniel L. Mode.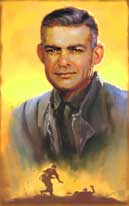 ---
John Merven Carrere (1858-1911) Architect at the renowned firm of Carrere and Hastings, designers of the United States Senate and House office buildings, Staten Island Borough Hall, The New York Public Library building on Fifth Avenue and branch libraries in St. George, Stapleton, Tottenville and Port Richmond. He was a founder of the Richmond County Good Government Club and the Staten Island Club. Upon his death his body lay in state in the rotunda of the unfinished New York Public Library.
James Paul Chapin (1889-1964) One of the top ornithologists of the twentieth century. At age 19 he left Staten Island to become second in command of the American Museum of Natural History's six year expedition to the Congo. Chapin's landmark four volume work Birds of the Belgian Congo was published as a result of the trip. He received his doctorate from Columbia University in 1919 and worked at the American Museum of Natural History for 59 years. He moved to Staten Island in 1892 and was a regular contributor to publications of the Staten Island Institute of Arts and Sciences as a young teenager.
Marcia Clark (1954?-) Prosecutor in the murder trial of football star O.J. Simpson. She is a graduate of Susan Wagner High School. Her autobiograpical account of the Simpson trial is called Without A Doubt (1997).
Roy Clark (1933-) Country music performer and star of the Hee Haw television series, grew up in Great Kills. He was named Country Music's Entertainer of the Year in 1973. His autobiography is called My Life - In Spite of Myself (1994).
---
William "Buffalo Bill" Cody (1846-1917) Famous western scout and buffalo hunter brought his "Wild West Show" to an area of Mariners Harbor called Erastina (named for Staten Island promoter Erastus Wiman) for two seasons from June to October in 1886 and again in 1887. During the winter of 1886 the show moved indoors to Madison Square Garden. His show, featuring Native Americans, trick riders, "the smallest cowboy" and sharpshooters (including Annie Oakley) is said to have drawn millions of visitors to the island. His autobiography is called The Life and Adventures of Buffalo Bill (1st ed. 1879: later editions include information about the Staten Island shows).
<![if !vml]>
<![endif]>
William Frederick Buffalo Bill Cody looks back over his shoulder while on horseback during a performance of Buffalo Bill's Wild West at Erastina on Staten Island
---
George M. Cohan (1878-1942) Patriotic composer of You're a Grand Old Flag, Over There, Give My Regards to Broadway and Yankee Doodle Boy resided for a time at the Actor's Home in West Brighton. His autobiography is called Twenty Years on Broadway - And the Years it Took to Get There (1925).
---
William Rossa Cole (1919-2000) Compiler of more than fifty poetry anthologies for children and adults. Three of his anthologies were named American Library Association "Notable Books" for children: I Went to the Animal Fair: A Book of Animal Poems, Beastly Boys and Ghastly Girls: Poems and The Birds and the Beasts Were There: Animal Poems. He was born on Staten Island.
---
Cassius Marcellus Coolidge (1844-1934) Painter of the widely reproduced humorous pictures of dogs playing poker. His painting A Friend in Need is said to be based on the 1647 Georges de la Tour Painting The Cheat With the Ace of Diamonds with the humans replaced by dogs. He lived his final years on Staten Island.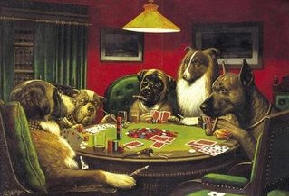 ---
James Gould Cozzens (1903-1978) Pronounced "Kuznz". Pulitzer Prize winner for his novel Guard of Honor (1949), "the best American novel of World War II." Cozzens moved to the Island in 1906. Educated at Staten Island Academy, his first publication, a poem entitled The Andes, appeared in the school's magazine The Quill. One of the most studied American authors, his works include The Last Adam (1933), The Just and the Unjust (1942) and By Love Possessed (1957). His life story is told in Matthew Bruccoli's biography James Gould Cozzens: A Life Apart (1983).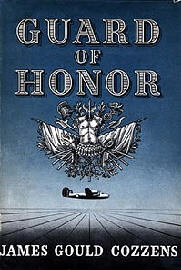 ---
Frederic Schiller Cozzens (1846-1928) Marine painter lived in New Brighton, West Brighton and Rosebank. His paintings usually depicted ships, very often racing yachts and New York Harbor scenes.
---
Ichabod Crane (1778?-1857) A Colonel in the US Army, he met Washington Irving while serving in the War of 1812. Crane was the inspiration for the name of the scrawny schoolteacher who met the headless horseman in Irving's story The Legend of Sleepy Hollow (1819). Crane bought a home in Travis in 1854 (demolished 1989) on what is now Victory Boulevard. Buried in a New Springville cemetery, he was the father of US Surgeon General Charles Henry Crane. Washington Irving also visited Staten Island on one occasion.

---
Jasper Francis Cropsey (1823-1900) Painter and architect. He is known for painting landscapes and Civil War scenes. He was a founder of the American Watercolor Society. His paintings are represented in the collections of the Metropolitan Museum of Art and Corcoran Gallery. He is also known for designing the train stations on Manhattan's 6th Ave. elevated line. He was born in Rossville.
---
Sir Edward Cunard (1816-1869) Manager of the U.S. operations for the Cunard shipping company, and son of its founder, lived on Grymes Hill. His home and property make up much of the current Wagner College campus.
---
George William Curtis (1824-1892) Author, orator, reformer, and advisor to presidents. His works include Lotus-Eating (1852), Potiphar Papers (1853), and Prue and I (1857). As the editor of Harper's Weekly Curtis' writings reached a mass audience who respected him for his reasoned and humble treatments of the issues of the day. Curtis High School is named for him. He lived in Livingston from 1856 to 1892.
---
Dorothy Day (1897-1980) Editor and social activist, she founded the Catholic Worker movement to promote social justice, pacifism, and communalism. She bought a beach cottage in Pleasant Plains in 1924 where she lived with her common law husband until her conversion to Catholicism caused the two to split. She was baptized into the Catholic faith in Tottenville at Our Lady Help of Christians Church. In 1935 her Catholic Worker movement set up a communal farm on Staten Island. She is buried in Staten Island's Resurrection cemetery. Often mentioned as a candidate for sainthood, she was inducted into the National Women's Hall of Fame in 2001. Her autobiography is called The Long Loneliness (1952).
---
Laura Dean (1945-) Postmodern dancer and choreographer. Her minimalist, folk-dance style works have been performed by the New York City Ballet, the Joffrey Ballet, and her own company, the Laura Dean Dancers. A native Staten Islander.
---
Frank Di Gennara (1901-1966) Staten Island's only Olympic gold medal winner in an individual event. He captured gold as a flyweight boxer (112 lb. limit) at the 1920 games in Antwerp, Belgium (silver went to Anders Petersen of Denmark and bronze to William Cuthbertson of Great Britain). Fighting professionally under the name of Frankie Genaro he held the NBA and IBU titles from 1928 to 1929 and and again from 1929 to 1931. He achieved a record of 98 wins, 22 losses. He was inducted into the International Boxing Hall of Fame in Canastota, NY in 1998. He lived in Tompkinsville and St. George and trained young Island boxers at the Cromwell Center.
---
Raoul Pene Du Bois (1914-1985) Noted set and costume designer for film and Broadway shows. The native Islander designed productions for Rodgers and Hart, Billy Rose, Leonard Bernstein, and Oscar Hammerstein.
---
Ann Duquesnay - Tony Award winning singer and Grammy nominated co-composer/lyricist of Bring In Da Noise, Bring In Da Funk. The show explores African American history through tap dance and song and starred dancer Savion Glover. Duquesnay lives in Silver Lake.
---
Will (1885-1981) and Ariel (1898-1981) Durant - Pulitzer prize winning authors of "one of the twentieth century's most ambitious projects" - The Story of Civilization. The eleven volume series was published between 1935 and 1975. They were awarded the Medal of Freedom by President Gerald Ford. The couple lived an impoverished student life on Staten Island while attending Columbia University.
---
Ralph Waldo Emerson (1803-1882) Arguably the most influential American author of the nineteenth century. His works include Self Reliance and Nature (1836). As a transcendentalist he spoke out against slavery, formal religion, and materialism. Spent a good deal of time on the Island visiting his brother, Richmond County Judge William Emerson, who lived on the Island from 1837 to 1864. The Staten Island neighborhood of Emerson Hill was named for William Emerson.
---
Jennifer Esposito (1972-) A Moore Catholic High School graduate who appeared in the Spin City television program and Spike Lee's film Son of Sam.
Emilio Estevez (1962-) "Brat Pack" film actor born at 30 Daniel Low Terrace, St. George. His films include Repo Man, The Breakfast Club, The Mighty Ducks and Mission Impossible and appeared with his father, Martin (Estevez) Sheen, as a child extra in Apocalypse Now. In the mid 1980s Emilio became one of the youngest writer/directors for a major Hollywood studio. He wrote the screenplay, directed, and acted in his adaptation of S.E. Hinton's young adult novel That Was Then . . . This Is Now at the age of 23.
John Eberhard Faber (1822-1879) German born pencil manufacturer lived in Port Richmond for ten years during the 1860s and 1870s. His grandfather Caspar Faber entered the pencil business in 1761 and John brought the company to America after the Revolution of 1848.
Eileen Farrell (1920-2002) Opera and popular music star made her entry into New York Opera at the Richmond Opera Company's 1959 production of Il Travatore. Two years later she was singing at the Metropolitan Opera. She possessed "one of the most beautifully agile dramatic soprano voices of the second half of this century."
Ernest Flagg (1857-1947) Architect, designer of the Singer Building on Broadway (then the world's tallest office building), the U.S. Naval Academy, and the Corcoran Art Gallery in Washington DC, had a country house called Stone Court in Dongan Hills.
John Charles Fremont (1813-1890) Explorer/surveyor of the Oregon Trail and Sierra Mountains and a leading figure in the capture of California during the Mexican-American War. A US Senator, he became the first Republican Party nominee for President of the United States in 1856 but was defeated by James Buchanan. He died on Staten Island. His remembrances are recorded in The Life of Col. John Charles Fremont and His Narrative of Explorations and Adventures in Kansas, Nebraska, Oregon and California (1856).
Giuseppe Garibaldi (1807-1882) Italian nationalist guerilla leader and key figure in the unification of Italy. For most of his life Italy was under the control of several different foreign powers. He devoted himself to fighting oppression. After conquering all of Southern Italy and Sicily, Garibaldi gave control of his territory to king Victor Emmanuel of the Piedmont uniting most of Italy under one king. He supported himself as a candlemaker while he lived in exile with the inventor Antonio Meucci in Rosebank from 1851-1853. Their house is now the Garibaldi-Meucci museum. He is the author of the Autobiography of Giuseppe Garibaldi (1887).
Sydney Howard Gay (1814-1888) Abolitionist who abandoned a promising career as a lawyer because he could not take an oath to support the US constitution (which at that time was found to uphold slavery). He became an agent on the Underground Railroad, editor of the American Anti-Slavery Standard, managing editor of both the New York and Chicago Tribunes and author of several volumes on American History. He lived in Livingston from 1848 until his death.
Charles Goodyear (1800-1860) Rubber pioneer lived in West Brighton in the 1830s where he had a factory that made rubber toys, maps, and surgical bandages. He invented the revolutionary process that prevents India rubber from melting in the summer heat and made rubber a practical product for thousands of uses. Goodyear received little profit from his work and lived most of his life in poverty and debt.
Percy Duncan Haughton (1876-1924) One of the outstanding football kickers of all time. Haughton coached Cornell, Harvard and Columbia University teams. He introduced methods of play that revolutionized the game. Born on the Island, he played football for the Staten Island Academy.
Eliza Healy (1846-1919) From a family noted for their accomplishments in the Catholic Church. Born an African American slave in Georgia, she was orphaned at the age of three and taken North for a Catholic education. She became a nun and took the name Mary Magdalene. Served as superior at the Academy of Our Lady of the Blessed Sacrament in Port Richmond. One brother was the first African American Jesuit and a founder and president of Georgetown University, another the rector of the largest cathedral in Boston, and another the first African American Bishop of Portland, Maine.
---
Langston Hughes (1902-1967) The author and "Poet Laureate of Harlem" quit Columbia University in 1922, broke with his father, and worked a season growing onions on a truck-garden farm on Staten Island. He remembers "There was something about such work that made you feel important . . . seeing [the onions] go off to feed the great city of New York. Your onions!" He slept in the barn on a pile of hay and visited Port Richmond during his free time. His experiences on Staten Island are recounted in his autobiography The Big Sea (1940).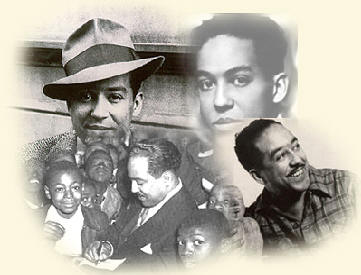 ---
Metropolitan Ireney (1892-1981) Russian born head of the Orthodox Church in America, the oldest of several Eastern Orthodox churches in North America, from 1965-1977. He retired to Staten Island.
Joseph Jefferson (1829-1905) Known as "the most popular and respected American comedian of the 19th Century". The comic actor's career spanned 71 years but he is best remembered for his stage portrayal of Rip Van Winkle. He tells his story in the Autobiography of Joseph Jefferson (1890). He lived in the Actor's Home in West New Brighton for a time.
---
David Johansen (1950-) In the early 1970s he was lead singer of the pioneering punk rock group New York Dolls and then in the 1980s performed as Buster Poindexter. His album Buster Poindexter (1987) featured the hit single Hot, Hot, Hot and was named "party album of the year" by Rolling Stone magazine. He now performs as David Johansen. He was born on Staten Island and is a Port Richmond High School graduate.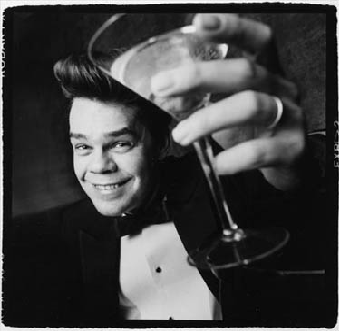 ---
Abel Kiviat (1892-1991) Track star. While at Curtis High School he won five national indoor and four outdoor track titles. He set three world records in the 1,500 meter run and won gold and silver medals at the Stockholm Olympics in 1912. Roommate of Jim Thorpe on the ship to Stockholm, Kiviat was inducted into the USA Track and Field Hall of Fame in 1985.
---
Rebecca Craighill Lancefield (1895-1981) Bacteriologist known throughout the world for the system she developed to classify the bacterium streptococcus. The Fort Wadsworth native was known as "the Scotland Yard of streptococcal mysteries".
---
Anna Harriet Leonowens (1834-1914) Tutor of the sixty-seven children of the King of Siam. Her life story was told in Margaret Landon's book Anna and The King (1944), and later made into the Rogers and Hammerstein musical The King and I. A film version of Anna and the King starred Jodi Foster as Leonowens. She moved to the Island in 1867 and ran a school. She wrote several books of her own including The English Governess at the Siamese Court (1870), The Romance of the Harem (1872) and Life and Travel in India (1884).
---
Robert Loggia (1930-) Oscar nominee for Best Supporting Actor in The Jagged Edge (1985). A native Islander and a New Dorp High School graduate who attended Wagner College 1947-1949. He was nominated for an Emmy for his leading role in the TV series Mancuso FBI (1989). His other films include Revenge of the Pink Panther (1978), Scarface (1983), Prizzi's Honor (1985), and Independence Day (ID4) (1996).
Frank McCourt (1930-) Pulitzer Prize winning author of the best-selling autobiography Angela's Ashes (1996) which documents the harsh conditions of his childhood in Ireland. Though he never actually lived on Staten Island he was a teacher at McKee High School in St. George and recorded his experiences there in his second autobiography 'Tis (1999).
Galt MacDermot (1928-) Composer of the Broadway musical Hair (1967). It was his first New York musical. Hit songs from the show include Aquarius, Hair and Let the Sun Shine In. Director Milos Forman made it into a film in 1979. MacDermot also won a Tony Award for a 1970 production of Shakespeare's Two Gentlemen of Verona. He is a former resident of Silver Lake.
Jeb Stuart Magruder (1934-) A Staten Island native who served as Deputy Director of the Committee to Re-elect President Richard M. Nixon. He was a major figure in the Watergate scandal, which lead to the resignation of the president in 1974. Cooperating with investigators he testified about the plan to photograph documents and bug telephones at the office of the Democratic National Committee. He served less than one year in prison for his involvement in the operation. His autobiographies are called An American Life: One Man's Road to Watergate (1974) and From Power to Peace (1978).
Edwin Markham (1852-1940) Poet who penned the poem The Man with the Hoe (1899) which was wildly popular at the time of publication. It was written to protest the exploitation of labor. He was chosen by President William Howard Taft to read his poem, Lincoln, the Man of the People, at the 1922 opening of the Lincoln Memorial in Washington D.C. A resident of Westerleigh.
Jacques Marchais (1887-1948) an American woman, created an institution to share with the world the ancient artistic and cultural traditions of Tibet and the Himalayan region. She was ahead of her time in understanding the value of Tibet to world cultural heritage. Jacques Marchais designed her educational center to be an all-encompassing experience, from extensive terraced gardens and grounds with a fish and lotus pond, to a research library, and a museum to house her collection of Himalayan Art ; the small complex, built to resemble a rustic Himalayan monastery, was completed during the late 1930s and 1947.

Joseph F. Merrell Jr. (1926-1945) Posthumously Awarded United States Medal of Honor for his actions in combat on April 18, 1945 near Lohe, Germany. As a U.S. Army Private in the 3rd Infantry Division he launched a one man attack, running over 200 yards through heavy enemy fire, defeating two German machine gun positions and killing 23 enemy soldiers before being fatally shot with a machine pistol. He was a native Staten Islander, a West New Brighton resident and a graduate of PS 45 and Curtis High School. A Staten Island ferryboat, a US Navy cargo vessel (AK 275 ex-AKV4) and a local American Legion Post were named for him.
Antonio Meucci (1808-1896) Inventor of the telephone!? History books and the US Patent Office tell us that Alexander Graham Bell invented the telephone in 1876. But here is an alternative version of events: In 1849 Italian born Antonio Meucci was working with medical electric shock treatments in Havana, Cuba when he heard the voice of a friend in the next room come over his copper wire. Realizing the significance of this discovery he came to Staten Island in 1850 to develop his invention further. He was hampered from applying for a full patent because he spoke only Italian and lacked the filing fee. He filed an "intent to patent" in 1871 but the relevant documents in the Patent Office were later "lost". He turned his telephone over to the Western Union Company where it was also "lost". Fraud investigations by the government linked staffers at the US Patent Office to Bell's company and Bell to Western Union. The US Secretary of State declared "there exists sufficient proof to give priority to Meucci in the invention of the telephone" but the case was dropped upon Meucci's death. His Rosebank home, which he shared with Italian revolutionary Guisseppe Garibaldi, is now the Garibaldi-Meucci Museum. Did history give credit to the wrong man? You make the call.
Alyssa Milano (1972-) Actress who played Samantha Micelli in TV's Who's The Boss from 1984-93. She also appeared in Charmed and Melrose Place. She grew up in Great Kills.
Patricia Buckley Moss (1933-) Staten Island born artist, studied art at Cooper Union, became a painter of stylized rural scenery, the Amish and country life. The P. Buckley Moss museum in Waynesboro Virginia attracts 45,000 visitors per year.
Samuel I. Newhouse (1927-) Media tycoon started his empire with the purchase of the Staten Island Advance. Chairman of Advance Publications and Conde Nast Publishing which includes the magazines Vogue, Vanity Fair, Glamour, The New Yorker and several newspapers. A ferryboat is named for him. He was born on Staten Island.
Paul Newman (1925-2008) Movie star lived at 30 Daniel Low Terrace, St. George while working in the New York theatre. His films include The Long Hot Summer, Cool Hand Luke, Butch Cassidy and the Sundance Kid and The Sting. He was nominated for six academy awards before finally winning one for his role in The Color of Money (1986). His Newman's Own brand food sales raise millions of dollars for charity every year.
John A. Noble (1913-1983) Marine lithographer who captured the passing of the era of sail. A former sailor, he is known for his depictions of the marine scene in and around New York Harbor. His work is housed in the John A. Noble Collection at the Snug Harbor Cultural Center. He lived on Richmond Terrace for more than 40 years.
Mabel Normand (1894-1930) Silent screen film star who appeared in several of Charlie Chaplin's films. She co-starred with Chaplin in the world's first feature length comedy film Tillie's Punctured Romance (1916) and co-directed five short films with Chaplin. Credited with originating the classic pie in the face comedy routine, she was known as the greatest comedienne of the silent film era. Born on Staten Island, she was a New Brighton resident.
---
Annie Oakley (1860-1926) Known as "Little Sure Shot", she was one of the top markspeople of her day, defeating many male competitors. She joined Buffalo Bill's "Wild West Show" in 1885 and performed on Staten Island for the 1886 and 1887 seasons. An orphan herself, she is remembered for donating free tickets to her show to New York area orphanages. Later she became the subject of the Broadway musical "Annie Get Your Gun".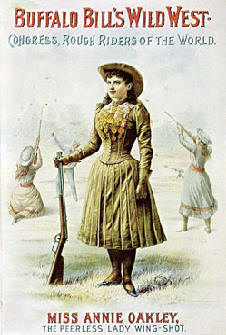 ---
Frederick Law Olmsted (1822-1903) Landscape architect who designed Central Park, The Biltmore estate in North Carolina, the grounds of the US Capitol building, the grounds of the Vanderbilt Mausoleum on Staten Island and parks across the country. He lived on a Staten Island farm which he acquired in January 1848 named The Woods of Arden by Erastus Wiman. There he promoted agricultural reform among his neighbors. He is also known as head of the US Sanitary Commission (forerunner of the American Red Cross) during the Civil War and a writer of several works documenting his travels through England and the antebellum South.
---
Mary Ewing Outerbridge (1852-1886) "The Mother of Tennis" set up the first tennis court in the United States, at St. George, on the grounds of the Staten Island Cricket and Baseball Club. She brought the game to the US after seeing it played on a trip to Bermuda in 1874. She was inducted into the International Tennis Hall of Fame in 1981.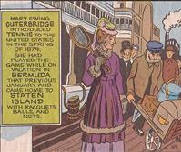 ---
William Page (1811-1885) The best known portrait painter of his era. His sitters included John Quincy Adams, James Russell Lowell, Charles Sumner and fellow Islander Colonel Robert Gould Shaw. His paintings are in the collections of the Metropolitan Museum, New York City Hall, Boston Art Museum and Harvard University. He first moved to Staten Island in the 1840s and then in the 1870s he returned to his "Octagon House" on Page Avenue in Tottenville after an eleven year stay in Italy.
Francis Parkman (1823-1893) Noted historian who wrote over 20 volumes focusing on the struggles between England, France and the Native Americans for the control of North America. In 1848 he began working on History of the Conspiracy of Pontiac but fell ill with a "weakness of the nervous system" that doctors predicted would cause insanity. He came to Staten Island to recover, where friends aided him in his writing. Temporarily blinded, he made notes using a frame with wires stretched to form his writing lines and listened while friends read his source material aloud. His progress slowed to writing only six lines a day at one point, but he finished the two volumes of Pontiac by 1851. His health gradually improved. He published an autobiography and his story is told in C.H. Farnham's A Life of Francis Parkman (1900).
Ruth Perry (1939-) First woman head-of-state of a contemporary African nation. She lived in exile in Clifton in 1995 and 1996 before returning to Liberia to become Chairman of the Council of State for the Liberia National Transitional Government in September 1996. As leader of the war torn nation she held elections in July 1997 which were won by Charles Taylor and the National Patriotic Party but failed to end fighting between the government and local militias. In 2001 she co-chaired the United Nations committee to award the Millenium Peace Prize for Women.
---
Emily Post (1873-1960) Author and etiquette expert. Her best selling book Etiquette: The Blue Book of Social Usage (1922), syndicated newspaper column and radio broadcasts sought to simplify manners for the American people. Post wrote "Etiquette is the science of living. It embraces everything. It is the code of sportsmanship and honor. It is ethics."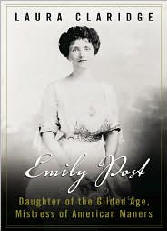 ---
Robin Quivers (1953-) Radio and TV personality teamed with top rated "shock jock" Howard Stern. After working as an Air Force nurse she joined Stern on air in 1981. She has a Todt Hill home. Her autobiography is called Quivers (1995).
Elmer Horton Ripley (1891-1982) Basketball Hall of Famer, inducted 1972. He was voted one of the top ten pro players from 1909-1926. He won a title with the original New York Celtics and played on two world championship teams. He Coached Georgetown, Yale, Columbia, Notre Dame, Wagner College, Canadian Olympic and Harlem Globetrotters basketball teams. He was born and raised on Staten Island.
Bill Richmond (1763-1829) Boxer, born into slavery, whose name may come from his birthplace (Richmond County). Servant of the British General Lord Percy on Staten Island during the American Revolution he earned a reputation as a fighter after winning several bouts with British troops. Traveling to England after the war Richmond turned professional and was known as the "Black Terror". He was the first American professional boxer to fight in England . In a career that lasted until age 55 he was only defeated twice, by George Maddox and Tom Cribb. He was inducted into the International Boxing Hall of Fame in 1999.
Pat Robertson (1930-) Founder of the Christian Broadcasting Network and the 700 Club. Born Marion Gordon Robertson, the son of a US Senator from Virginia, he lived in Dongan Hills for two years in the 1950s running an electronics business. It was here that he experienced a sense of emptiness that lead to the creation of his evangelical ministry. His autobiography is called Shout It From the Housetops (1986).
Edwin Arlington Robinson (1869-1935) Three-time Pulitzer Prize winning poet lived on Lighthouse Hill around 1913. His poems include Richard Cory (1890-97), Miniver Cheevy - "Miniver Cheevy, born too late - scratched his head and kept on thinking - Miniver coughed, and called it fate - And kept on drinking" (1907), and Mr. Flood's Party (1920) .
Edward Heinrich Robitzek M.D. (1912-1984) Director of Sea View Hospital on Staten Island, once the world's largest Tuberculosis treatment facility. In 1952 he worked with Dr. Irving J. Selikoff and others to develop the revolutionary pill known as Isoniazid, to treat TB. This medication caused the US tuberculosis rate to drop by 35%, saved millions of lives worldwide and countless health care dollars. It is still widely used today. The effectiveness of the treatment led to the closing of the TB treatment facilities at Sea View. In 1993 The World Health Organization declared the reemergence of TB a global emergency. Despite the development of Isoniazid and other drugs about one third of the world's population is infected with Mycobacterium tuberculosis and TB still causes two million deaths each year. It is the single biggest killer of young women. Most of these deaths occur in poor countries where effective treatment is not available.
William Allen Rogers (1854-1931) Political cartoonist and children's book illustrator. He was the first American cartoonist to become syndicated in several newspapers. His cartoons appeared in Harper's Weekly, Life, Puck and the New York Herald. He illustrated the children's book Toby Tyler and the stories of James Otis and Kirk Munroe. Rogers lived in St. George in the late 1800s. Many of his original drawings are in the permanent collection of The New York Public Library. His autobiography is called A World Worth While (1922).
Antonio Lopez de Santa Ana (1794-1896) Five-time Mexican President best known in America as the man who stormed the Alamo. His influence in Mexican history is so great that the mid nineteenth century has been called "the age of Santa Ana" in Mexico. He was a key military figure in gaining Mexican Independence from Spain. He spent time in exile on Staten Island before being smuggled back into Mexico inside a piano crate.
Randy "Macho Man" Savage (1952-) Professional wrestler who lived in New Springville and is known as the Macho Man of the World Wrestling Federation. Dressed in outrageous theatrical costumes and trademark goggles, he has won numerous "world championships" in the World Wrestling Federation, WCW and NWA.
Francesco Scavullo (1929-) Fashion, beauty, and celebrity photographer, named Photographer of the Year 1977, was born on Staten Island. His photos appear regularly on the covers of top magazines including Cosmopolitan, Life, Harper's Bazaar, Rolling Stone, and Mademoiselle. His books of photography include Scavullo on Beauty (1976) and Scavullo: Photographs, 50 years (1997).
Rick Schroder (1970-) Performer who successfully made the jump from child actor (Silver Spoons TV series 1982-86) to adult actor on the NYPD Blue TV series. He was born on Staten Island and grew up on Leverett Avenue in Great Kills.
Armand Schwerner (1927-1999) Avant-garde poet and writer whose most famous work is a book length poem called Tablets (1968) "a performance poem satirizing almost everything in the world". In it he "translates" fictitious 4,000-year-old tablets. A Tompkinsville resident, he worked at the College of Staten Island beginning in 1963.
Alan Seeger (1888-1916) Poet and soldier. He lived his early years on the Island and attended the Staten Island Academy. His most popular poems were written in the trenches during World War I. They include I Have a Rendezvous With Death and Ode in Memory of the American Volunteers Fallen For France. He was killed at the Battle of the Somme in July of 1916. His story is told in Letters and Diary of Alan Seeger (1917).
Steven Seagal (1951-) Action film actor lived in Eltingville in the 1990s. He studied martial arts in Japan and is a Black Belt in karate and aikido and incorporates these fighting skills into his films. His often-violent movies include Marked for Death (1990) and Under Siege (1992). He writes, directs and produces many of his films.
---
Elizabeth Ann Bayley Seton (1744-1821) The first American born Roman Catholic saint spent summers on the Island at her father's St. George residence. Her grandfather was rector of St. Andrew's Episcopal Church in Richmondtown. She converted to Catholicism in 1805 after the death of her husband and later formed the Sisters of Charity of St. Joseph in Baltimore, MD. Her order is responsible for opening numerous Catholic hospitals, schools and orphanages. She is considered the patroness of the parochial school system in America. She achieved sainthood in 1975. Her grandson published some of her writings in Memoirs, Letters, and Journal of Elizabeth Seton (1886).
---
Brendan Sexton III (1980-) Independent film actor appeared in Welcome to the Dollhouse, Empire Records, and Boys Don't Cry among other films. Nominated for best debut performance, Independent Spirit Award, 1997. A native Islander, he grew up in St. George.
Robert Gould Shaw (1837-1863) Colonel who headed the Union Army's first African American regiment, the 54th Regiment of Massachusetts. An abolitionist, he came to Livingston in about 1846. He was killed in action in the assault on Fort Wagner, Charleston, South Carolina. His story is featured in the film Glory (1989) starring Denzel Washington, Morgan Freeman and Matthew Broderick as Colonel Shaw. A section of Davis Avenue in Staten Island has been renamed "Colonel Robert Gould Shaw's Glory Way".
Martin Sheen (1940-) Film actor lived at 30 Daniel Low Terrace, St. George from 1962-1964. Born Ramon Estevez, his film credits include Apocalypse Now (1979), Gandhi (1982), and Entertaining Angels: The Dorothy Day Story (1996). He appears in TV's West Wing series. He has been nominated for and/or won more than six Emmy Awards.
Gene [Klein] Simmons (1949-) Founder of the mega-selling rock band KISS. He formed the band Rainbow in 1971 while attending Richmond College (now the College of Staten Island) in St. George with KISS co-founder Paul Stanley. Simmons received a BA in Education and worked as a schoolteacher in Spanish Harlem. KISS has sold over 40 million albums making them one of the most popular rock bands of all time. He autobiography is called KISS and Make-Up (2002).
Edward Reilly Stettinius Jr. (1900-1949) United States Secretary of State under Presidents Franklin Roosevelt and Harry Truman in1944 and 1945. He accompanied Roosevelt to the Yalta Conference and was active in the creation of the United Nations, leading the American delegation at the Dumberton Oaks Conference. He grew up on Staten Island and in Chicago. He is the author of Roosevelt and the Russians: The Yalta Conference (1950) and his wartime remembrances are published in The Diaries of Edward Stettinius Jr. 1943-1946 (1975).
Theodore Sturgeon (1918-1985) Science fiction writer known for the novel More Than Human, winner of the International Fantasy Award for 1954. His collection of stories Theodore Sturgeon is Alive and Well . . . won the 1970 Nebula Award and the 1971 Hugo Award. He also wrote the Star Trek teleplays Shore Leave and Amok Time. He was born on Staten Island.
Clive Thompson (1940-) Afro-Caribbean dancer who performed with the Martha Graham and Alvin Ailey companies. Founded the Clive Thompson Dance Company on Staten Island in 1981. He recalls driving over the Verrazano Bridge one day and saying to himself "I want Staten Island to dance". In 1988 he left the Island to head the National Dance Theater Company of Jamaica.
Bobby Thomson (1923-) Major league baseball outfielder from 1946-1960. He hit "the shot heard round the world", a homerun which put the New York Giants in the 1951 World Series. Born in Glasgow, Scotland he was known as the "Staten Island Scot". His autobiography of the 1951 season is called The Giants Win the Pennant! The Giants Win the Pennant! (1991).
Henry David Thoreau (1817-1862) Author of Civil Disobedience (1849), Walden (1854) and advocate of the simple life. Spent about a year tutoring Ralph Waldo Emerson's brother's children on Staten Island in 1843-44. Thoreau continued his writing while on the Island. One letter to Ralph Waldo Emerson reads "If I can finish an account of a winter's walk in Concord in the midst of a Staten Island Summer . . . I will send it to you." Thoreau did finish his essay and A Winter's Walk was published in the October 1843 issue of Emerson's magazine The Dial (Emerson "simplified" the published version by deleting two pages of Thoreau's original text). Thoreau spent time wandering the Staten Island landscape and experimenting on local trees by "inserting three or four hundred buds into them." He made some unsuccessful attempts at having his work published in New York but did manage to make friends with the editor Horace Greeley. It was Thoreau's longest time away from Concord, Massachusetts. In 1845, shortly after returning to Concord, Thoreau began his famous two-year stay in a hut on Walden Pond. The Northeast Staten Island neighborhood of Dutch Farms was renamed Concord by Thoreau and Ralph Waldo Emerson for their "other" hometown.
Daniel D. Tompkins (1774-1825) Vice President of the United States under President James Monroe from 1817-1825. He lived in St. George and died on Staten Island. He was elected governor of New York State in 1807 and served for ten years. He paid much of the cost of defending New York City in the War of 1812 out of his own pocket causing him near financial ruin. An abolitionist, he lead the fight which finally outlawed slavery in New York State in 1827. The neighborhood of Tompkinsville is named for him.
Julia Gardiner Tyler (1820-1889) First Lady of the United States became President John Tyler's second wife in a secret ceremony in 1844. She moved to Staten Island in 1862 after the death of the former president. A Southern sympathizer, she flew the Confederate flag on her West Brighton lawn until it was removed by angry Unionists.
Amy Vanderbilt (1908-1974) Author of the best selling Complete Book of Etiquette (1952). A native of Staten Island, a Curtis High School graduate, reporter for the Staten Island Advance and a relative of the other Vanderbilts listed below. She was crowned "successor" to the other famed Islander and etiquette expert, Emily Post, when the seven hundred page Complete Book of Etiquette was published.
Cornelius Vanderbilt (1794-1877) With one hundred dollars from his parents he bought a sailboat and began ferrying passengers and freight from Staten Island to Manhattan. Soon the "Commodore" had steamships circling the globe and railroads crossing the continent making him the richest man in the United States. He was born on Staten Island.
William Henry Vanderbilt (1821-1885) His first enterprise was a New Dorp farm given to him by his father Cornelius (who thought his son had no talent for business.) He made this profitable and then he entered the railroad business (before his father) by rescuing the insolvent Staten Island Railroad. He doubled the family fortune in his lifetime. The farm is now part of Gateway National Recreation area. His son Cornelius, builder of "The Breakers" mansion in Newport R.I., was born on the New Dorp farm.
George Augustus Vaughn Jr. (1897-1989) World War I Flying Ace. Credited with the destruction of 13 enemy aircraft, (ranked fourth overall and of the American aces who survived WWI only Eddie Rickenbacker downed more aircraft). Awarded the Distinguished Flying Cross and the Distinguished Service Cross. He lived on Todt Hill in his later years. His autobiography is called War Flying in France (1980).
Shigeo Watanabe (1928-) Children's author, professor, librarian, and storyteller. Traveled from Japan on a Fulbright scholarship to study library science. Worked at the Port Richmond branch library while at The New York Public Library from 1955-1957. One of the preeminent Japanese children's picture book authors, he is a former Vice President of the International Board on Books for Young People. Many of his books have been translated into English and he received the American Library Association Notable Children's Book Award. He has written more than seventy books including Where's Daddy? and I Can Take A Walk.
Phyllis A. Whitney (1903-) Best selling author of more than seventy five titles for adults and children. Dubbed "the reigning queen of the Gothics" by the New York Times, the Edgar Award winning writer lived on the Island for over twenty years beginning in the late 1940's. At the age of 97 she began work on her autobiography.
Erastus Wiman (1834-1904) Promoter of all things Staten Island. The Canadian born New York manager for R.G. Dun & Co. (now Dun and Bradstreet) moved to Staten Island in 1867. He brought about the first direct connection between the Staten Island Ferry and local train service at the St. George Ferry Terminal. He is responsible for the name St. George (he reportedly promised to name the area after the property's owner, George Law, as an inducement to sell the land). He brought a big name baseball team, the New York Metropolitans, to his elaborate St. George stadium complex complete with illuminated fountains and brought Buffalo Bill's Wild West Show to Mariner's Harbor in 1886 and 1887.
William Winter (1836-1917) Known chiefly as America's top theater critic during his lifetime, he was also a historian, poet and essayist. He wrote many books about actors and the theater of his day including The Jeffersons (1881), which included actor, and fellow Islander, Joseph Jefferson. In later life his rejection of any art that lacked a strong moral theme caused him to lose favor with the public. He lived most of his life on Staten Island and was a friend and neighbor of George William Curtis.
Theodore Winthrop (1828-1861) He came to Staten Island in the late 1850s. George William Curtis described Winthrop's favorite Island activities as writing, walking, riding, skating, running, leaping and turning somersaults in the grass. Winthrop's novels went unpublished during his lifetime. After his death in the Civil War, his family found a publisher for his works. Three novels achieved sustained success: Cecil Dreeme (1861), John Brent (1862) and Edwin Brothertoft (1862). All were reprinted several times over the next forty years. He told his own story in The Canoe and the Saddle (1863) and Life in the Open Air (1863). His manuscripts are in the collections of The New York Public Library.
Charles R. Wittemann (1885?-1967) Founded the world's first airplane manufacturing plant in his father's garage on Todt Hill. He built his first glider in 1901 and his first biplane in 1907. He was also a founder of Teterboro airport.
Paul Zindel (1936-2003) Pulitzer Prize winning playwright and author of numerous books for children and young adults. He grew up in Travis, attended PS 26 and Wagner College and taught chemistry at Tottenville High School. Some of his young adult fiction books set on Staten Island include: The Pigman (1968), The Pigman's Legacy (1980), and Rats (1999). His Pulitzer and Obie winning play, inspired by the Tottenville High School science fair, is The Effect of Gamma Rays on Man-in-the-Moon Marigolds (1971) which was also made into a film by Twentieth Century Fox in 1973. His autobiography is called The Pigman and Me (1992)
Recent Additions from My Visitors
John Franco - Pitcher for the New York Mets - Todt Hill
Mike Siani - who played for the Oakland Raiders
Frank Ferrara - New Dorp graduate Football NFL Giants
James Jenkins - played for 10 years in the NFL for the Redskins played for Curtis has a superbowl ring
Vernon Turner - played a few years in the NFl he also went to Curtis and graduated with Jenkins. Don't know if he was active but he was on one of the Buffalo teams that went to the superbowl
Richie Eisen - works on the Football network formerly an ESPN anchor for many years. Graduated from Wagner H.S.
James Rosen - Fox News analyst for the white house Graduated from Wagner
Joe Andruzzi - has won 3 superbowl rings played with the Packers, Patriots and the Cleveland Browns. Graduated from Tottenville
Adewale Ogunleye - Played with the Dolphins and the Bears . Graduated Tottenville
Lewis Sanders - played for the NFL Browns the last couple of years.
Frank Menichino - has been playing MLB for the last 5 years graduated Wagner H.S.
Jason Marquis - Pitcher who plays in MLB. Graduated Tottenville
Terry Crowley was also born on Staten Island. He played Major League Baseball mostly for the Baltimore Orioles from 1969 to 1983
Frank Ferrara Sr. Lead stunt coordinator for HBO who doubles for "Tony Soprano" and had small roles in Carlitos Way and many other movies
Gianni Russo born and raised in Rosebank, he starred in the Godfather Part I (he played Carlo Rizzi, son-in-law to the Don), Tequila Sunset and numerous other films. He was instrumental in getting parts of the Godfather filmed on SI.

George Bamberger a Major League Baseball Manager who managed the Mets was born on Staten Island.
---
Gregory Perillo - resides in Tottenville, born in 1931, American artist, best known for his paintings of Native American subjects. He studied with the American western artist William Robinson Leigh. Perillo's paintings, mostly in the realistic idiom of the Western genre, have been described as romantic and idealized. He has also painted African wildlife and made bronze sculptures.

---
Mr. Jeremiah O'Donovan Rossa - one of Ireland's most notorious sons. He and his wife Mary lived on Staten Island for many years before he died in 1915. Mary was a well-known poet and sought-after speaker in her own right.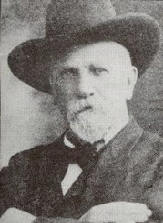 ---
Edward C. Platt was an American character actor best known for his portrayal of "The Chief" in the 1965-70 TV series Get Smart.Platt was born in Staten Island, NY
Johnny Petraglia and Mark Roth - Pro Bowlers both resided in Staten Island
Nicholas Evlampios Fotiu (born May 25, 1952 in Staten Island, New York) is a retired American ice hockey forward, and is the first professional hockey player ever from New York City's Staten Island to play for the local NHL New York Rangers.
Dr. John F. Mahoney - headed the V.D.Research Lab at Marine Hospital and discovered that Penicillin cured Venereal Diseases. He received one of the first Lasker Awards. He retired from the Public Health Service he was named NYC Health Commissioner and later director of Labs for NYC until his death in 1957. He lived with his family at the Quarantine Station and Marine Hospital from 1929-1950 then on Valley Street, Arrochar (now the toll booth of V-N Bridge) - This was added by his daughter Janet
Pete Siringano Sr. -
born in West Brighton, he learned the art of Jiu Jitsu at age 13 before entering the US Army where he furthered his studies during WW2.
He eventually opened the FIRST Martial Arts School on Staten Island in 1956.
He also brought the FIRST Martial Arts Tournaments to the Island back in 1965 at what was then The Columbian Lyceum.
During his life, he taught over 5,000 Islanders Self Defense and was featured in the documentary motion picture "The Super Weapon."
His Dojo (school) remained at the corner of Clove Rd. and CastletonAve. for 32 years before relocating after his death in 1994.
The intersection of Clove & Castleton Ave. was re-named "Grand Master Pete Siringano Sr. Square" by Mayor Rudy Giuliani in 1997. He is the ONLY Martial Artist to ever receive such an honor.