The following films are reported to contain scenes on Staten Island.
Splendor in the Grass
Starring Natalie Wood and Warren Beatty
1961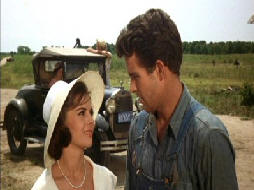 The story of two Kansas high school sweethearts growing up in the late 1920s through the stock market crash of 1929. Bud and Deanie are very much in love, but the pressures of sex in society creates a rift in their relationship. Bud's father encourages him to leave Deanie to find "another kind of girl" which drives Deanie into madness. She is committed into an institution while Bud reluctantly obeys his father and enrolls in Yale. The crash of '29 hits and changes the lives of both their families. Together they learn the harsh lesson of love and life in the '20s and sadly go their separate ways.

The role of Kansas in the 1920s was played by Staten Island
Scenes of Kansas and the Loomises' home were shot in the Travis section of Staten Island
4144 Victory Boulevard, Travis, Staten Island

There is a firehouse on Victory Blvd, nicknamed "Splendor in the Grass"
The shooting locations listed below have not been verified. Movie credits do not normally list all filming locations, so to compile this list it was necessary to depend on secondary sources. These sources include: The Archives of the Staten Island Institute of Arts And Sciences, the Staten Island Advance, the Internet Movie Database, and individual submissions.

Analyze This (1999) Starred Robert Deniro and Billy Crystal.

Angel Heart (1987) Starred Robert Deniro.

Annie Hall (1977) Starred Woody Allen and Diane Keaton. Woody Allen shot the car crash scene from Annie Hall in front of Nunzio's ( Need to verify this )
Arizona (1913) Silent short film written and directed by Augustus E. Thomas. Shot near Fort Wadsworth.
Astronaut's Wife, The (1999) Written and directed by Rand Ravich and starred Johnny Depp.
Barefoot in the Park (1967) Starred Jane Fonda and Robert Redford.
Basket Case 2 ( 1990 ) "Basket Case," the story of a horribly deformed, twisted, mutilated Siamese twin who lives in a picnic basket and is very angry about it. In Basket Case 2 he lives in the attic of a mansion in Staten Island. - Filmed in St. George
Birth of a Nation (1915) The ever-controversial film, both acclaimed for its film making techniques (often making critics' lists of the top 100 films of all time) and condemned for its racist subject matter, includes scenes in Fox Hills, now Park Hill, Staten Island. The Biograph film company, owner of a studio in New Brighton, produced the D.W. Griffith film.
Black and White (1999) Starred Robert Downey Jr.
Bob and Tammy's Party to Blow (1996 ) Short comedy film (14 minutes).
Book of Kings (2002) Short film (19 minutes) with Staten Island ferry Scenes.
Book of Life, The (1998) Written and directed by Hal Hartley.
Bright Lights, Big City (1988) Starred Michael J. Fox
Broadway Danny Rose (1984) Directed by Woody Allen
Cadaverous (2000) Written and directed by Michael Fiore.
Circle, The (1967) A documentary about drug rehabilitation written and directed by Mort Rankness.
Combat Shock (1986) Written and directed by Buddy Giovinazzo
Denise Calls Up (1995) Written and directed by Hal Selwen.
Desire (1999) Short film written and directed by Jorge Torregrossa
Desperately Seeking Susan (1985) Starred Madonna, who also set part of her Papa Don't Preach music video on Victory Boulevard, Staten Island.
Devil's Own, The (1997) Harrison Ford stars as a police officer from Staten Island.
Donnie Brasco (1997) The film crime story, starring Johnny Depp and Al Pacino featured a scene at the Great Kills marina.
Easy Money (1983) The comedy starring Rodney Dangerfield and Joe Pesci was shot in Eltingville, Grasmere and New Dorp.
Exposed, a.k.a. Shallow End, The (2004) Directed by Douglas Keeve and Anthony Nicholich.
Family Secret (2000) Documentary written and directed by Pola Rapaport.
Family Web, The (1998) Directed by Robert Locke and written by Timothy Burrows.
Forced Entry, a.k.a. The Last Victim (1975), Horror drama directed by Jim Sotos.
Gang Who Couldn't Shoot Straight, The (1971) Based on a novel by Jimmy Breslin.
Gin and the Rumble Within (2004 ) Written and directed by George Katt.
Godfather, The (1972) The acclaimed Francis Ford Coppola film starred Marlon Brando and Al Pacino. The film's wedding scene at the Corleone compound was shot with Emerson Hill standing in for Long Island and the baptismal scene was shot at Mt. Loretto. ( The wedding party scenes were filmed at the Cambria house on Longfellow Avenue on Emerson Hill. The wedding was filmed at Mt. Loretto. The catering for the cast and crew was by Demyan's Hofbrau.)
Goodfellas (1990) Martin Scorcese's mobster classic featured scenes around New Springville.
Grace Quigley (1984) Starred Katherine Hepburn and Nick Nolte and was shot in Willowbrook.
Guru, the Mad Monk (1970) Horror film directed by Andy Milligan.
He Knows You're Alone (1980) Horror film directed by Armand Mastroianni. Sedutto's is in it, the Fox theater. Some scenes shot on New Dorp Lane
Home Alone 2: Lost In New York (1992) Starred Macaulay Culkin and Joe Pesci.
Honky Tonk Freeway (1981) Starred Beau Bridges
How to Lose a Guy in 10 Days (2003) Starred Matthew McConaughey and Kate Hudson.
Jacob's Ladder (1990) Tim Robbins stars as a Vietnam veteran in Bellevue Hospital. It was shot at Sea View Hospital.
Jaded (1996) Written and directed by Caryn Krooth.
Jimmy Show, The (2001) Written and directed by Frank Whaley.
Just Looking (1999) Directed by Jason Alexander.
Joe The King (1999) Written and directed by Frank Whaley.
Joe Versus The Volcano (1990) Starred Meg Ryan and Tom Hanks.
Keystone Komedies (1920s) Starred Islander Mabel Normand, a frequent co-star with Charlie Chaplin, in a series of films shot in St. George.
Kinsey (2004 ) Liam Neeson stars as Alfred Kinsey.
Life of an American Cowboy, The (1908 ) Written by and featuring Gilbert M. "Broncho Billy" Anderson.
Little Kings (2003 ) Written and directed by Marylou Tibaldo-Bongiorno.
Love the Hard Way (2001 Written and directed by Peter Sehr.
Love With a Proper Stranger (1963) Starred Steve McQueen and Natalie Wood.
Mac (1992) Written and directed by John Tuturro and filmed on New St.
Manhattan Dating Project, The (2001) Documentary directed by Alexander Van Roon.
Maniac (1980) Horror movie directed by Joe Lustig and Shot in New Dorp and South Beach.
Mighty Joe Young (1998) The Ron Underwood film about a giant gorilla on the loose featured scenes at Snug Harbor Cultural Center.
Neighbors (1981) Starred John Belushi and Dan Ackroyd. Filmed in Rosebank and at Sea View Hospital.
No Way Home (1996) Written and directed by Buddy Giovinazzo.
New York Ripper, The (1982) Italian horror film "Squartatore di New York, Lo" directed by Lucio Fulci.
Other Girl, The (1916) Comedy directed by Percy Winter based on the play by Augustus E. Thomas.
Panic in Needle Park (1971) Starred Al Pacino.
Perils of Pauline (1914 ) Nine episodes of the popular series were shot at Brady's Pond, Grasmere and Scott's Movie Ranch The man-made Brady's Pond in Grasmere supposedly has an underwater ramp that was used to roll stagecoaches. One is still there (according to local legend).(a special railway line was built as far as Rosebank)
Raffles, the Amateur Cracksman (1917) Starred John Barrymore and was filmed in Livingston.
Rats Are Coming! The Werewolves Are Here!, The (1972) Horror film written and directed by Andy Milligan
Right of Way (1914) Short silent film directed by Van Dyke Brooke. Clove Lakes Park is used to represent the St. Lawrence River.
Rutles, The (1978) (TV) A Beatles parody with a Staten Island ferry scene.
Safe Men (1998) Comedy written directed by John Hamburg.
Salvation! (1987) Comedy written and directed by Beth B.
Saturday Night Fever (1977) Starred John Travolta and with a scene of a suicide on the Verazzano Bridge.
Scent of a Woman (1992) Starred Al Pacino and featured scenes from Prince's Bay. The beginning scenes were filmed at an old house on Bay View St. just off of Amboy Rd.
School of Rock, The (2003) Starred Jack Black and featured a concert scene in the St. George Theater.
Secret of My Success (1987) Starred Michael J. Fox.
Siege, The (1998) Starred Bruce Willis and Denzel Washington and featured a scene near the Alice Austen House in Rosebank.
Sinking Ship, The (2003) Written and directed by James Israel, the film is set on the Staten Island Ferry.
Sisters (1973) A reporter for a Staten Island newspaper witnesses a murder in a St. George apartment building and sets out to find the killer. The Brian DePalma film was also shot in Grymes Hill, Port Richmond and Dongan Hills.
Sorry, Wrong Number (1948) Starred Barbara Stanwick and Burt Lancaster.
Splendor in the Grass (1961) Travis (using the home on the corner of Roswell and Victory ) is used to depict Kansas of the 1920s in the film starring Natalie Wood and Warren Beattie and directed by Elia Kazan.
Surprises of an Empty Hotel, The (1916) Short silent film directed by Theodore Marston.
That Kind of Woman (1959) Sophia Loren and Jack Warden danced on the Staten Island ferry.
Torture Dungeon, a.k.a. Dungeon of Death (1970) Horror film directed by Andy Milligan.
Two Family House (2000) Written and directed by Raymond DeFelitta.
Unforgotten: Twenty-Five Years After Willowbrook (1996) Documentary about the abuses at the Willowbrook State School with Danny Aiello and Geraldo Rivera.
War of the Worlds with Tom Cruise. The traffic jam scene is the west shore expressway, and the house he lived in had the Bayoone Bridge in the background. The same bridge also gets blown up in the movie.
The Weirdo (1968 ) Horror film directed by Andy Milligan.
Who's That Knocking At My Door (1969) A Martin Scorcese film starring Harvey Keitel with a scene shot in the St. George ferry terminal.
Wolfen (1981) Horror film starred Albert Finney.
Womanhood, the Glory of the Nation (1917) When New York is captured by invaders from "Ruthania" the locals fight back. Features scenes with Theodore Roosevelt and Woodrow Wilson as themselves.
Working Girl (1988) Staten Island is prominently featured in Mike Nichols' film starring Melanie Griffith, Harrison Ford, Alec Baldwin and Sigourney Weaver. Shooting took place in New Brighton and aboard the ferry. (Melannie Griffith's apartment was the building on the corner of York Avenue and Richmond Terrace)
Film Studios Located on Staten Island
Fred Scott's Movie Ranch on Sand Lane in South Beach, "the birthplace of the Western", open from the 1890s to 1914.
Biograph Company opened a studio in New Brighton in 1906 and a second one that opened briefly in Stapleton around1922.
Stapleton Studios opened at the old Navy Homeport site for a short period ending in 2003.
Big-screen cowboys and Indians galloped across Fred Scott's movie ranch in South Beach, which had a frontier main street, a wide selection of stagecoaches and a 56-foot stockade. The island provided a serviceable stand-in for locations as varied as the Sahara desert and a British cricket pitch. Soldiers were shot on the plains of Grasmere.
''The Perils of Pauline'' and its even more popular sequel ''The Exploits of Elaine'' were filmed largely on the island. So was the 1906 blockbuster ''Life of a Cowboy,'' by the same director, Edwin S. Porter, who made ''The Great Train Robbery.''
''Staten Island seems to be the producer's paradise for exterior stuff,'' The Staten Islander newspaper observed in 1916. ''Hardly a week passes that we do not see some company round-about.''